So, you got a new craft machine like a Cricut or Silhouette for Christmas. Or maybe a sublimation printer, or a new sewing machine. You're super excited, but your head is reeling. You may even be wondering where to begin this new crafting adventure. Before you get frustrated and hide your new machine in the back of a closet, read on for some tips on how to jump right in without breaking the bank and without pulling your hair out:
1. It's okay to make mistakes.
Really, it is. Even crafters with years of experience make mistakes. Sometimes there are technical difficulties and the machine doesn't do what you told it to, or what you thought it would do. Sometimes it's operator error — you don't size something right or you load the vinyl wrong. Try again — practice will never actually make perfect, but it will make pretty projects that you'll love, and that's the whole point of all this effort! You and your new craft machine will become friends the more you hang out together.
I recently got a sublimation printer. I had a bit of a blurry edge for a coaster I made, but I learned I have to bring in the outside of the design a little. Okay, I'll do that. And my next one will be better.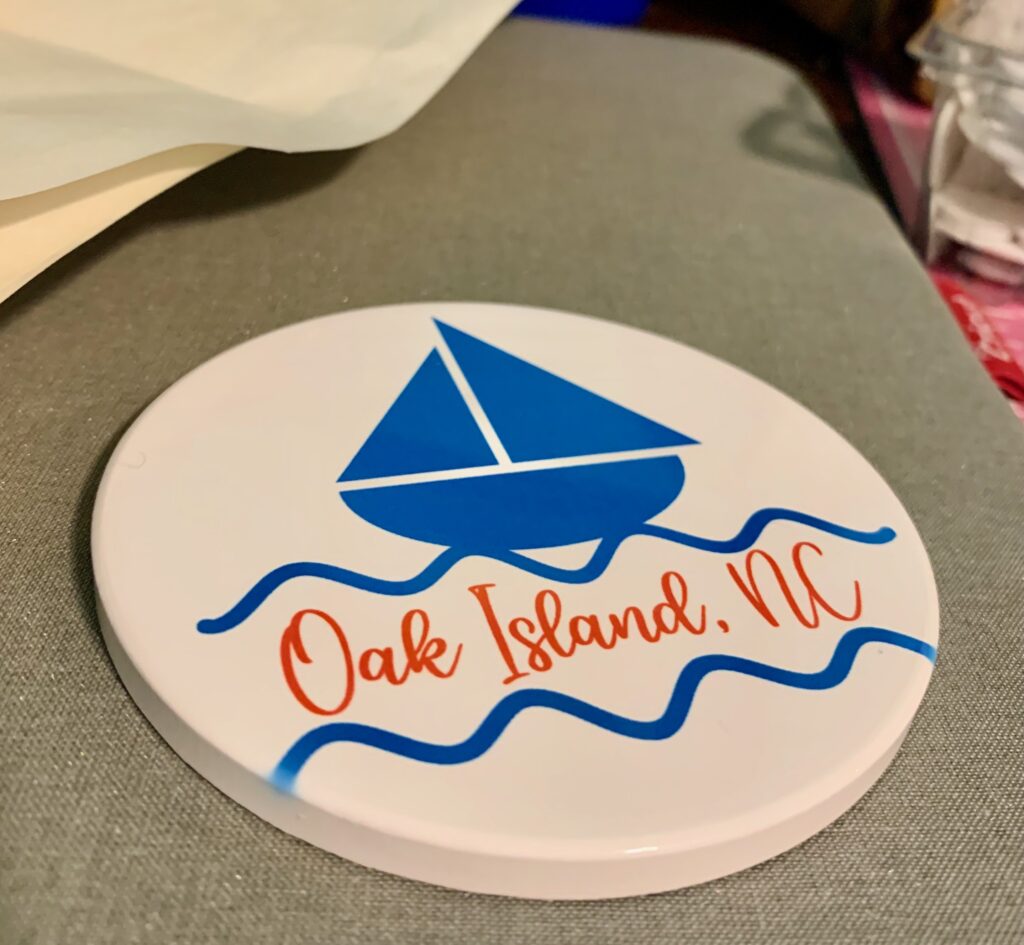 2. Don't think you have to make all the things right away.
Take small steps. You'll get to the larger, more difficult projects in time. Once you accomplish some of the easier techniques, you'll feel more comfortable trying more complicated projects. Dollar Tree is a great place to get some inexpensive "blanks." You can even get a ready-made sign, paint over it and make it your own. You might want to look for a small wood box — you can stain or paint it, and then put a different vinyl design on all four sides. Four chances to practice with just one purchase! As a new crafter, the Dollar Tree craft section can be a great place to start.
3. A sampler pack is perfect for learning a new craft.
Get an inexpensive sampler pack of vinyl or cardstock or whatever medium you'll be working in. There will be colors in the sampler pack that you don't like and that you wouldn't ever imagine using. Great! Use those for practice. Save your favorite colors and the more expensive products for that tote bag you can't wait to carry around town.
I do this in my SVG design-making process sometimes. For some designs, especially if it's just a phrase, I don't really need to cut it out to know how it will work. But when I try a new object, like this swirl sun monogram frame, I want to make sure it will cut clean before I list it for sale. So I grab a color I don't like to see how it cuts and weeds. I can go back and fix any issues, or go ahead and list it if it cuts well.
4. Watch video tutorials and join Facebook groups.
Shameless plug — please follow my Facebook page! There are LOTS of great Facebook pages and groups dedicated to helping fellow crafters though, especially the newbies. I was a newbie just a few years ago too. I learned so much by connecting with other crafters on social media and YouTube. There are lots of people trying to sell you courses too. But when you are just starting out, I recommend sticking with free videos. There are tons to choose from — just search until you find some who share your aesthetic. Then when you're a little more savvy, you can figure out if any paid classes would be beneficial. I haven't been able to make myself do a "how to" video yet (so video shy!), but I'll be glad to try and help you if you have questions.
5. Have fun!
Whether you are getting crafty to make beautiful home decor, t-shirts, etc. for your friends and family, and yourself, or if you want to launch a new side hustle, don't forget this most important tip — you should be having fun or it's not worth doing. Don't be too hard on yourself if something doesn't come out "perfect." Chances are, you're the only one who will see the flaws. The recipient of your gift will probably just be so happy you thought of them and took the tie to make something personal.
Enjoy the process, enjoy the journey of learning something new, and have so much fun making pretty things with your new craft skills!