Where do you get inspiration for designs and projects? Sometimes it's everyday life that can spark an idea, and sometimes it's a fun event that gets the (ships') wheels turning.
I take that concept to heart when creating designs and thinking about projects to make. Let's see how pictures of a sailboat turned into nautical svg files for Cricut and Silhouette machines.
It seems like most small towns have their own special festivals and fairs. In southeastern North Carolina, we have the official State 4th of July celebration, plenty of music festivals, BBQ and chili cook offs and plenty of festivals dedicated to our favorite seasonal food grown, cultivated and caught or harvested locally, including blueberries, oysters, shrimp, and yams. Yes, yams. That is one sweet festival. Get it? Sweet.
One of our favorites is the wooden boat show, held annually in Southport. There are small, homemade wooden craft on display as well as large in-water wood yachts and sailboats and lots of sizes in between.
There are all sorts of arts and crafts for sale, of course, and fun kids crafts, displays from the Maritime Museum (of course we have a maritime museum), and gorgeous views of the water, as the festival meanders all along the "river," the place where the Cape Fear River meets the ocean and the Waterway.
We love photography, and we have always had a hand in some kind of journalism, working as a reporter, freelancing, editing and now owning local magazines. That means we take a camera pretty much everywhere. Jeffrey got lots of great detail shots of cleats on boats, ropes, beautiful bows of boats, boats in water, handmade canoes and kayaks. And we also got some cool shots of a sailboat race. It really doesn't take much to convince people on the coast to race boats.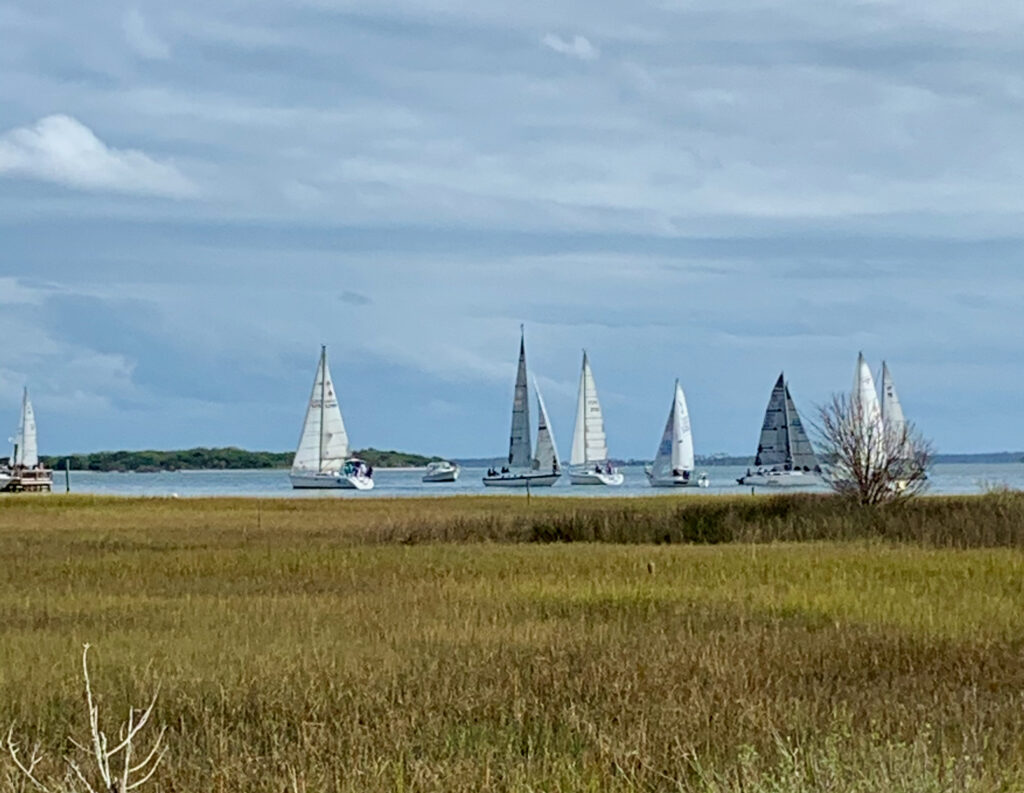 I used some of the pictures we took and started to play around with making a sailboat. Side note: The boats were too far away to get good pics with a phone, but Idid it anyway. I am a shapes girl when it comes to designs. I use the Pen Tool on Adobe Illustrator when I have to, but I really prefer working with shapes. Triangles and half circles worked perfectly to make this chunky sailboat. And then I just started using it with different beach town names and place coordinates.
Southport had to be top of the list, and I made a couple designs for it. And then Morehead City, because there is a port there and it is a very boat-y town. And Atlantic Beach, NC, neighbors Morehead, and is also a very boat-y place.
These designs can be used on t-shirts, beach bags and totes, on wood signs, garden flags, pencil cases and notebooks — anything that needs a little beach love and a little boat. We love to give our family "up north" coastal NC gifts to help them remember all the good times we have when they visit. And sometimes on a gray winter day, a beach-themed shirt is a great mood lifter.
I hope you become inspired by what you see around you. Even if you don't make your own designs, daily life and your environment are endless sources of inspiration for project ideas. So let's get crafting!