Remember when we were in elementary school and we all got Valentine's Day cards? Some were store bought, and some were homemade. In these days of everything DIY, why not make your own Valentine's Day cards and tap into that nostalgia? Or maybe make some hearts decor or clothing so you can share the love everywhere.
Check out these lovely designs (get it, lovely), and surprise your sweeties with a homemade message or gift this year. 
"Love is Patient, Love is Kind." These lines from I Corinthians are so well known. Many people, myself included, use them in wedding ceremonies. If you know a couple getting ready to tie the knot, or one celebrating an anniversary, then this design would make a great wall hanging inside a frame, or on a sign. It would be a great reminder to yourself to spread love in the world too, and would be super cute on a t-shirt.
Maybe someone in your life wants something a little more blingy. We all have that one friend who loves to make a splash! She can do it with our many hearts design. You can make the hearts in all the same color of red or pink or mix it up and use several shades of each. You could even use some patterned vinyl. If you want something a little more basic, we've got you covered there too. This simple word love in a heart would work great on a DIY Valentine's card or Valentine's t-shirt. 
Don't forget your sweeties of the four-legged variety. There really is no love like puppy love and this cute svg will help you show your love for Fido. It's not specifically a Valentine's style, so a pillow or sign would look great displayed all year long. 
And let's not forget the master, the OG love language writer — William Shakespeare. Impress your bookworm friends with a line from the Bard himself. And if your sense of humor runs a little darker we have plenty of Shakespeare insult designs too. What says love better than a Shakespeare insult?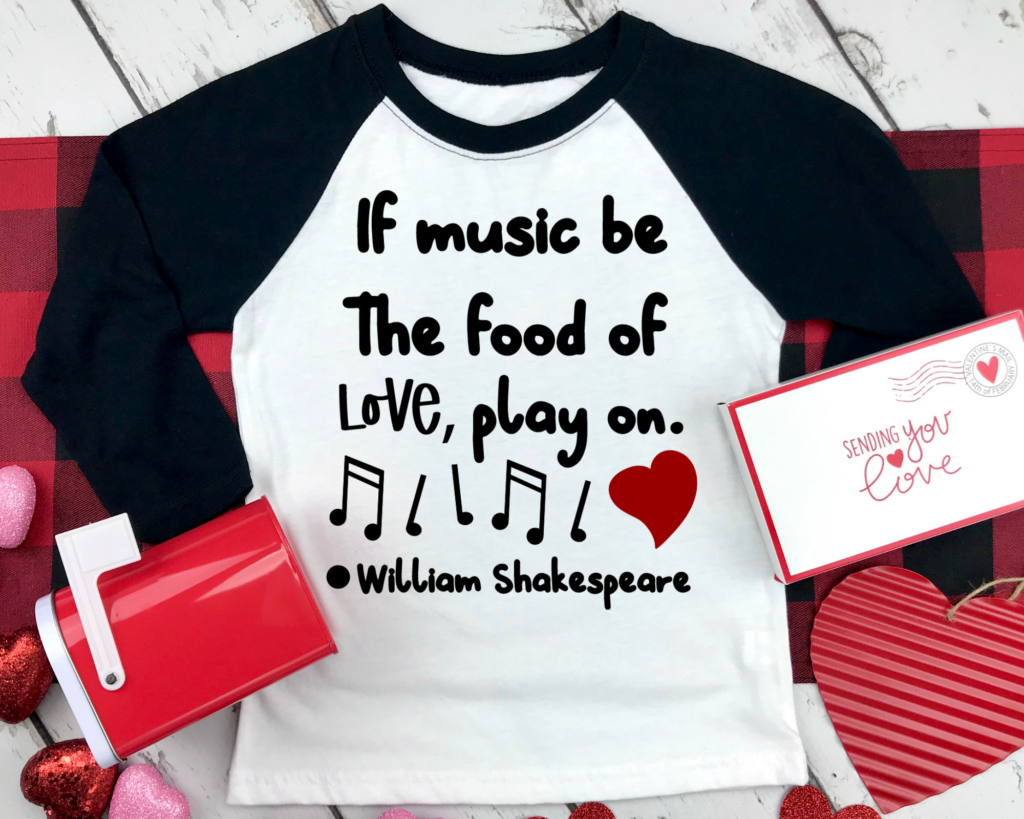 Valentine's Day is the perfect opportunity to use up some of that extra red vinyl and ribbons we got for Christmas crafts. It seems like we just had Christmas, but it is already in our rearview mirror and we are moving on to the next holiday. It's January, and though some of our favorite stores may have July 4th on display already, we'll stick with what's coming up next. We don't want anyone to miss out on the chance for more chocolate!
Of course you can go out and buy a fancy card with all the frills and lace. But whatever your reason for displaying the love this year, going DIY for Valentine's Day will let your loved ones know how much they mean to you. Whether you use one these designs to make a beautiful shirt or sign or if you do something as simple as draw hearts on a card with crayons or colored pencils, I hope you take some time to unwind, think about what you really want to express and make it heartfelt and meaningful. They'll be glad you did. And so will you.