There's this store in my area called The Painted Mermaid. It has all kind of neat finds in it. There's old wood, doors, lights, knobs and buttons, all kinds of things that had a whole different life somewhere before finding their way into Southport, North Carolina and into their next chapter in a new home. Some of those things have found their way into my home, and into my craft projects. But more on that later. Today let's chat about custom design work.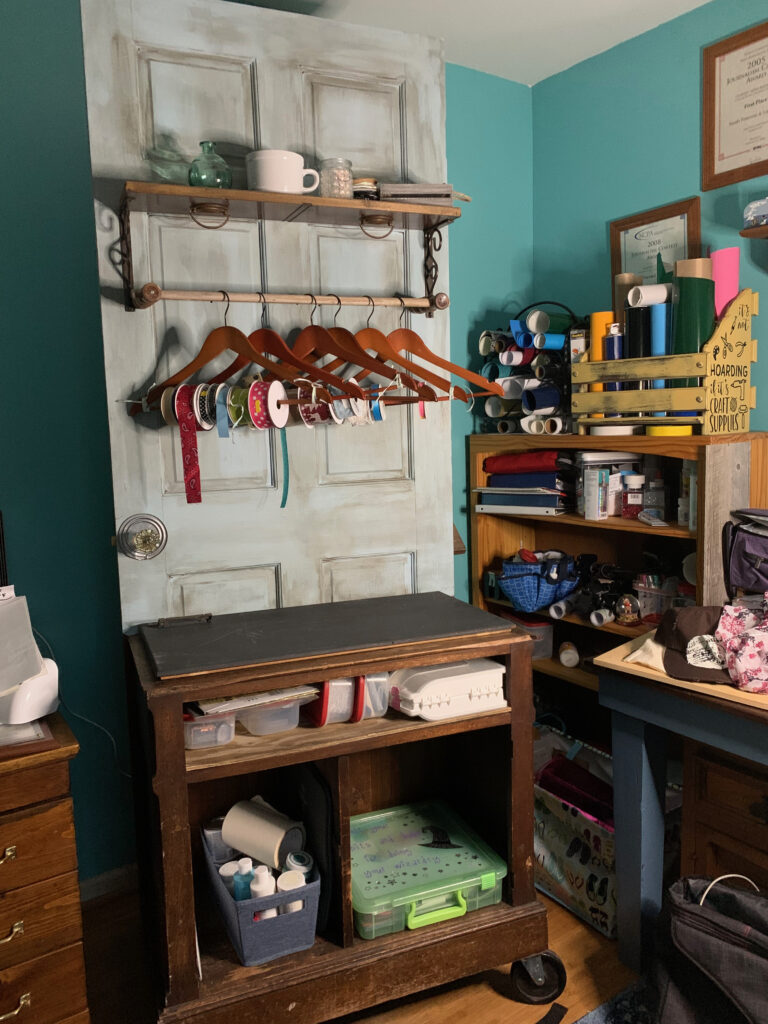 Ooohhh, that's pretty
One day when we went in to browse, we saw these hall tables made out of doors and chunky table legs. I talked about them with Amy, the funky and extremely talented Mermaid in Charge. I love a good hall tree, but do not have any place to put one in my home. One thing led to another, and we decided she could make a craft cart using a similar concept. She fished out a door that we both liked, and found the shell of a cabinet. She was so relieved when I said I didn't even want her to make the cabinet base pretty. I love the dings and the wear and tear that shows on it. Besides, I wanted to be able to really use this without feeling bad if I scuff it up a little.
We talked about how I would use the cart. I wanted it for crafting, but also to make mockup pictures I can use to sell digital designs. I make digital designs (svg, dxf, png and eps) that people can use in their craft machines, like a Cricut or Silhouette.
New word for the day — mockups
Sidebar — what's a mockup? Well, when you're selling a digital design, you don't necessarily want to make a t-shirt for every one of them. I mean, that's a lot of t-shirts. But you still want the customer to know what it would look like on a t-shirt. There is a whole industry of people making mockups for purchase, and there are a lot of great ones out there. I want to make my own though, because it's another way you can get really creative. I like making digital designs and then finding cute ways to market them.
Her Name is Merryweather
This cart has everything. There's an old drawer attached to the bottom of the back of the door that I can put glass bottles, candles, blank signs, whatever I have that's waiting to become transformed into something pretty. I can also put a piece of wood (really, a cabinet door) over that drawer and it becomes a shelf, or a surface for staging photographs.
There's also a set of brackets with a large dowel that I can use to hang things. There's another piece of wood that I can store in those brackets or put on top to make another surface for photos.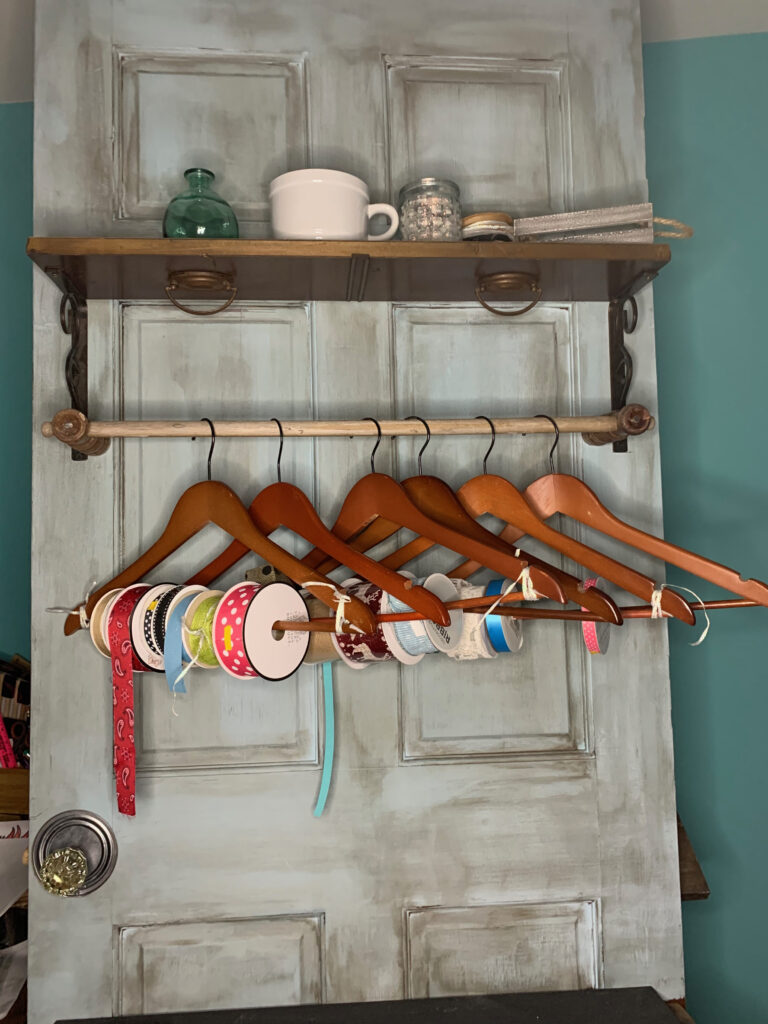 On the front, there is a shelf at the top. Amy suggested putting that one up high so we wouldn't cover up too much of the beautiful door. She used chalk paint and wax and made the front of the door beautiful, by the way. The shelf is actually a drawer front, and the handles are still on it, hanging down. There's also a dowel on this side, and Amy put a bunch of hangars on it so I can hang ribbon spools. I ended up putting some velcro at the ends of the hangar to hold the bottoms to the tops and used wire ribbon to hold them snugly. The wire is just twisted so I can take it off easily and change out the spools. I don't really go through ribbon that fast, but sometimes the ribbon spools are photo props too.
The whole thing is on wheels, which makes for easy access. My hubby Jeffrey came up with her name. She's blue, and we love a good Disney story, so she is Merryweather, the blue fairy from Snow White. She has already been a great addition to my crafting space and I can't wait to see what magic we'll create together.
I couldn't be happier with the results. Most of these pieces were castoffs, but they work together to make this unique and totally affordable cart that I will use in so many ways.
Go ahead and ask for a custom design
Custom design for furniture doesn't have to be expensive, and the same is true for digital designs! If you see something you like but it's not exactly what you want, reach out to the designer and ask for a change. You never know what you and the designer might come up with by working together. Check out more of my digital designs (svg, dxf, png, eps) in my Etsy shop, and if you see something you like, great. If you are inspired and want something similar but just a little bit different, then let's chat.